XtraTools Program Page

Latest version: 23.12.1 | From: November 30, 2023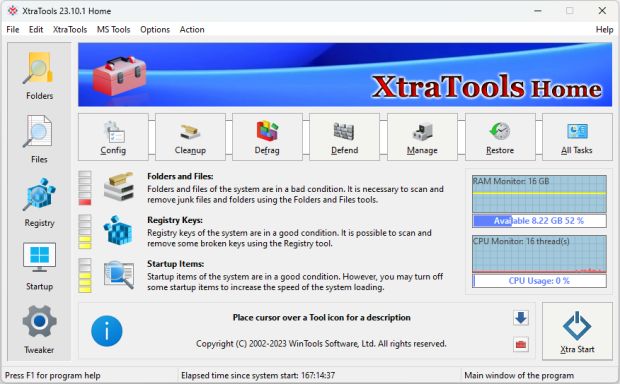 XtraTools is a comprehensive MS Windows system optimization tool that caters to every aspect of your computer. It optimizes the registry, removes unwanted programs, tweaks network connections, and boosts RAM speed. This compact tool, with its intuitive interface, provides full control over the startup process, memory monitoring, and a vast array of system settings that govern your computer's operation.

The program is available in two editions: Home and Professional. The Home edition of XtraTools includes the following tools: Scan Folders, Scan Files, Scan Registry, Startup Manager, System Tweaker, and System Monitor. These tools provide a robust framework for maintaining and enhancing your system's performance.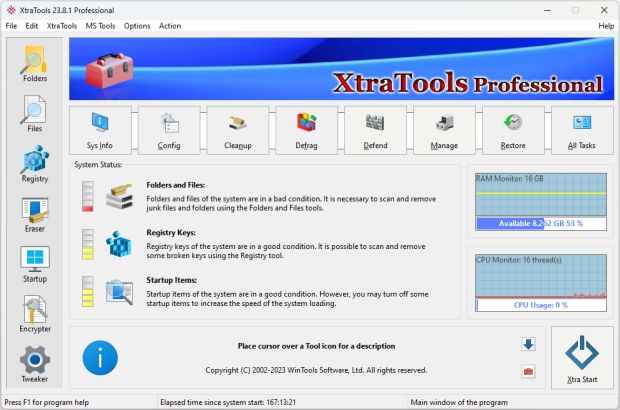 The Professional edition of XtraTools builds upon the Home edition by including additional tools: Objects Eraser and File Encryptor. The Objects Eraser ensures secure deletion of files and folders, while the File Encryptor provides an added layer of security by encrypting sensitive data.

Whether you're a casual user or a professional, XtraTools offers a versatile solution for managing and optimizing your system's performance, ensuring that your computer runs as efficiently as possible.

Pay Attention! To use this program, you need the administrator rights. Before working with the XtraTools we recommend that you close all other applications.
XtraTools system requirements:
Operating system: MS Windows 11/10/8.1/8/7/VISTA x86 x64
Download size: 3 MB
Official site: https://www.xtratools.com
Main Download Page
Download XtraTools Home
Download XtraTools Professional
Tools included in XtraTools