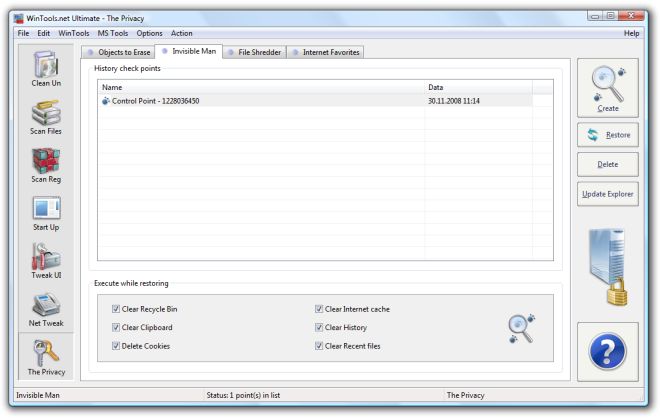 "Invisible Man" is for keeping private information and its later restoring. This is necessary in that case when you wish to do some work on the computer which must not be fixed anywhere, but you need to save the information which you had in computer before your work. To do that first you need to create "Control point" by button "Create". In the control point private information is kept. Then you can do the work you do not want to be known. Having finished your work restore information saved in "Control point" by button "Restore". Now system is keeping only the information about your computer activities which you did before creating "Control point". Do not forget to delete "Control point" from the program WinTools.net by "Delete" button.
System requirements:
OS: MS Windows 11/10/8.1/8/7/VISTA/Me/2000/XP x86 x64
Minimum screen resolution 1024x768
CPU: Pentium processor and above
RAM: 128 Mb RAM
HDD: 5 Mb free disk space
Download size: 1.4M
.