ExtraDisks Program Page

Latest version: 23.10.1 | From: November 01, 2023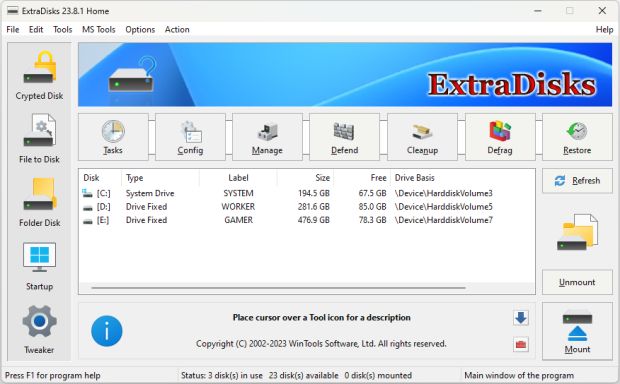 Presenting ExtraDisks, a robust suite of tools expertly designed for creating Virtual Disks on your computer. With ExtraDisks, your physical drives are preserved in their original state, undivided and unaltered, thereby maintaining the integrity of your existing data.

ExtraDisks brings to you tools for crafting three distinct types of virtual disks:

● Encrypted Disks: Fortify your sensitive data with the formidable power of AES encryption. These disks are the ideal solution for safeguarding confidential information, offering you peace of mind.
● File-Based Virtual Disks: Streamline your workflow when handling a multitude of small files. This feature is perfect for transferring a large number of files, such as photos or music, between computers.
● Folder-Based Virtual Disks: Navigate the contents of deeply nested subfolders with ease. Connect a music or photo folder as a drive for swift and convenient access.

With ExtraDisks, you embrace the versatility of virtual storage without the need to modify your physical drives. Experience the luxury of customized data management. Give ExtraDisks a try today and transform the way you store and access your data, stepping into a new era of digital storage solutions.

Pay Attention! To use this program, you need the administrator rights. Before working with the ExtraDisks we recommend that you close all other applications.
ExtraDisks system requirements:
Operating system: MS Windows 11/10/8.1/8/7/VISTA x86 x64
Download size: 3 MB
Official site: https://www.extradisks.com
Main Download Page
Download ExtraDisks
Tools included in ExtraDisks