Software Presentation

Latest version: 23.12.1 | From: November 27, 2023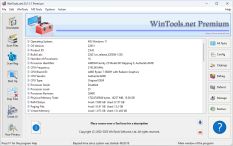 WinTools.net is comprehensive suite of tools is designed to boost the performance of your MS Windows operating system. WinTools.net not only removes unwanted software and dead references from your disk drives and registry, but it also puts you in control of your MS Windows startup process and memory monitoring. With the ability to customize your desktop and system settings, you can tailor your computing environment to fit your specific needs. WinTools.net also enhances the speed and stability of your internet connection, ensuring a smoother online experience. Prioritizing your privacy, it keeps your sensitive information secure.

WinTools.net includes a Clean Uninstaller, Scan Files, Scan Shortcuts, Scan Registry, Startup Manager, Tweak UI, Net Tweaker, Your Privacy, Invisible Man, File Shredder, and more. Whether you're using a home PC or the most advanced dedicated servers, these tools are guaranteed to enhance your computer's performance. Experience the difference with WinTools.net!

The WinTools.net software is available in three editions: Home, Professional, and Premium. Each edition is tailored to cater to different user needs, from basic home use to advanced professional requirements. Experience the power of optimization with WinTools.net!
WinTools.net system requirements:
Operating system: MS Windows 11/10/8.1/8/7/VISTA/Me/2000/XP x86 x64
Download Size: 3 MB
What's new in WinTools.net version 23.12.1:
GetFileTitle() bug was fixed
Clean Uninstaller tittle list was changed
Startup Manager`s algorithms were updated
Download
Screen Shots
Differences
Information
Tools included in WinTools.net

WinTools.net Recommends

Download ExtraMAME
ExtraMAME Program Page
Download RAM Saver Pro
RAM Saver Program Page
Download ExtraDisks
ExtraDisks Program Page
Download ArmorTools Pro
ArmorTools Program Page
Download XtraTools Pro XtraTools Program Page
Download FileEncryptor
FileEncryptor Program Page
Download ExtraSubst
ExtraSubst Program Page
Download WinTools.one Pro
WinTools.one Official Site