ArmorTools Program Page

Latest version: 23.10.1 | From: October 30, 2023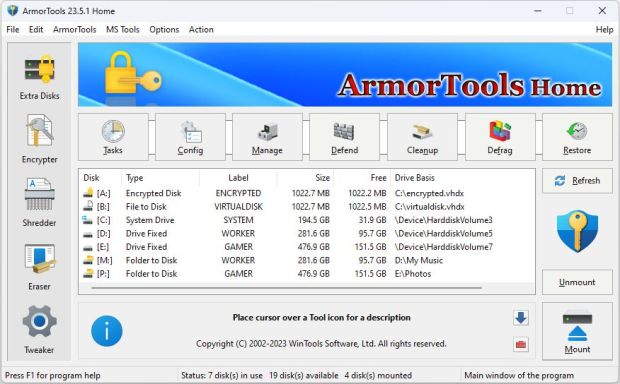 ArmorTools is a comprehensive suite of tools designed to enhance the security features of the MS Windows operating system, with a particular focus on protecting user's confidential information. This robust toolkit allows you to create secure virtual disks encrypted using advanced AES128/AES256 algorithms, providing an additional layer of security for your data.

In addition to disk encryption, ArmorTools also offers the capability to encrypt the contents of files and folders using any file as a password. This unique feature provides a flexible and personalized approach to data encryption, further bolstering the security of your sensitive information.

ArmorTools is not just about data protection, but also about maintaining your digital privacy. It effectively removes traces of your computer activity, clears your browsing history, and permanently deletes confidential information, making it irrecoverable. This ensures that your digital footprint remains private and that your sensitive data is beyond the reach of unauthorized access.

Moreover, ArmorTools comes with a set of additional settings tailored for the MS Windows operating system. These settings allow you to customize and optimize your system's security parameters according to your specific needs.

In essence, ArmorTools provides a comprehensive solution for enhancing your system's security, protecting your confidential information, and maintaining your digital privacy. It's a powerful ally in today's digital world, where data security and privacy have become paramount.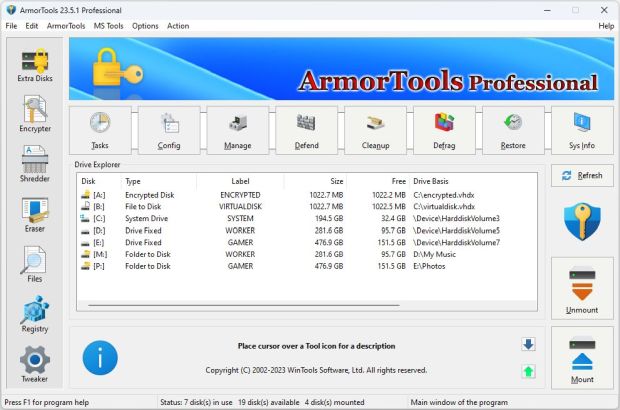 The ArmorTools program is available in two distinct editions: Home and Professional. Each edition is tailored to cater to different user needs and comes with a unique set of tools.

The ArmorTools Home Edition is equipped with a suite of tools designed for everyday use, including Extra Disks for additional storage management, File Shredder for secure file deletion, File Encryptor for protecting sensitive data, Objects Eraser for removing unwanted items, and System Tweaker for optimizing system settings.

On the other hand, the ArmorTools Professional Edition is designed for advanced users and includes all the tools available in the Home Edition, along with additional features. These additional tools include Scan Files and Folders for comprehensive file management and Scan Registry for in-depth registry analysis and optimization.

In essence, whether you're a casual user or a professional, ArmorTools offers a tailored solution to meet your specific needs, ensuring optimal system performance and robust data protection.

Pay Attention! To use this program, you need the administrator rights. Before working with the ArmorTools we recommend that you close all other applications.
ArmorTools system requirements:
Operating system: MS Windows 11/10/8.1/8/7/VISTA x86 x64
Download size: 3 MB
Official site: https://www.armortools.com
Main Download Page
Download ArmorTools Home
Download ArmorTools Professional
Tools included in ArmorTools