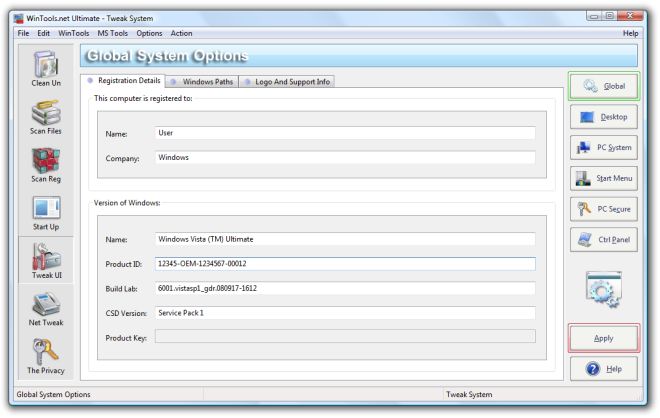 A set of additional adjustments related to safety, system capacity and user preferences.

Adjustments are divided into six groups:

1. Global - adjustments which allow for changing system files and registration information.

2. Desktop - a set of adjustments that can be made to the desktop.

3. PC System - system settings, ways of the loading of a system and devices.

4. Start Menu - a change of the interface of a Start menu .

5. PC Security - an adjustment of security of a system.

6. Control Panel - a manager of the bars used for the administration of a system.

A change of adjustments needs to be confirmed by pressing the "Apply" button. Attention! If you press the "Apply" button you apply changes of adjustments in the active window only.

System requirements:
OS Windows 7/VISTA/XP/2k/2k3/2k8 x86 x64
Minimum screen resolution 1024x768
CPU: Pentium processor and above
RAM: 128 Mb RAM
HDD: 5 Mb free disk space
Download size: 1.4M
.