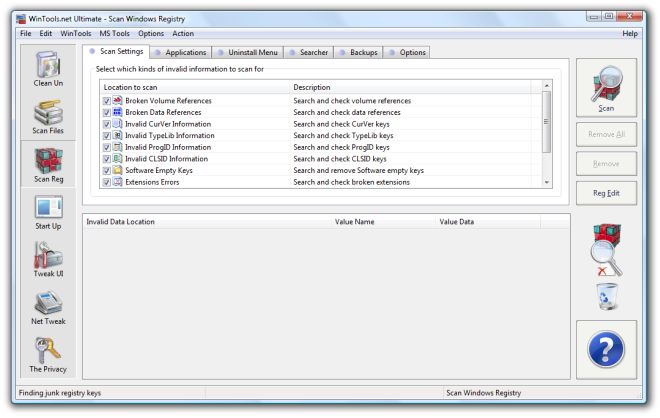 Many programs store information about themselves in the Windows registry; these programs add new file extension associations and install components of their own.

Far too often, the unistallation methods used by these programs fail to remove their information from the registry adding unnecessary bloat.

After several series of installation/uninstallation, the Windows registry becomes bigger and bigger; computer power declines and program access times increase. The "Scan Registry" tool serves for periodic cleaning of the registry and for correcting incorrect registry records.

Before beginning of the work you need to choose the methods for scanning of the registry from list below "Choice of the methods for scanning". Then you can start scanning registry by pressing the "Start" button. Then you can delete unused registry keys by pressing the "Remove" button.
System requirements:
OS Windows 7/VISTA/XP/2k/2k3/2k8 x86 x64
Minimum screen resolution 1024x768
CPU: Pentium processor and above
RAM: 128 Mb RAM
HDD: 5 Mb free disk space
Download size: 1.4M
.